Craigslist has pretty much become a household name but does that make it the best site for selling your used stuff? A couple of years ago I would have said yes. But recently I have been trying to sell my old items and am having no luck with them. Luckily, someone mentioned that I should try out the site OfferUp.
They said my items would sell within minutes. I put off using the site because I figured it would be time-consuming but to my surprise, it was very simple to use. And while it was more like a couple of hours, my items were actually getting sold!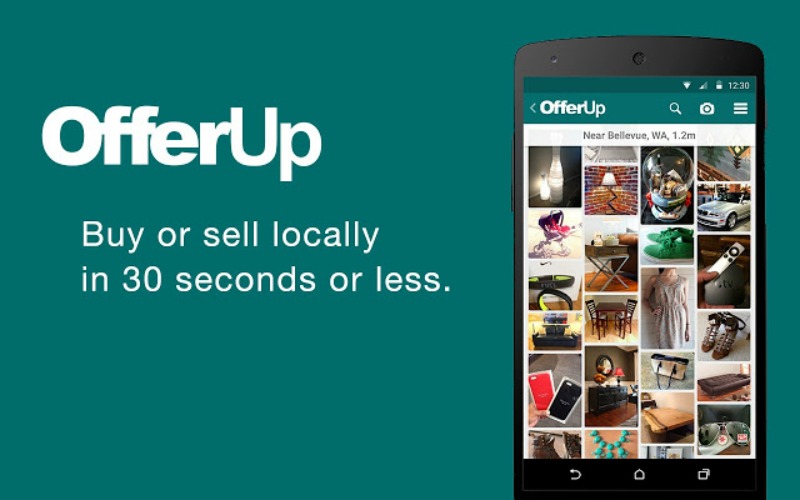 *BTW. I also use Facebook yard sale pages and OfferUp is now my second favorite way to sell my things.
What is OfferUp?
It's simply another free website that people use to buy and sell their used items. According to Fox News OfferUp is better than Craigslist and I agree 100% for many reasons.
How is it better than Craigslist?
1. It's safer
Users can link their Facebook profiles and they also have a TruYou program where users can scan their state IDs. This is not a requirement to use the site but it certainly helps sellers and buyers that want a littler extra security. There is also a rating system that allows the seller to rate the buyer so you can see how many stars someone has. I wish they had this for the other way around, though.
2.Easier to use
Craigslist takes quite a while to create a new post and it users have to contact each other via email or phone. Not everyone likes giving out personal information like that. OfferUp has a messaging system on their app and posting a new ad takes under 30 seconds. I usually don't like posting little items on any site, but I am hooked to posting my stuff on their site.
How do you use OfferUP?
To sell
Click the "camera" button on the app and add a picture, title, description, category, condition and price of the item. Post it and your item goes to the top of the home page for potential buyers to see.  You can view all of your posts in the sidebar under "my offers".
When someone is interested in your item they can send you a message which you can view under "alerts". Your phone will also alert you by making a cash register sound. It definitely gets your attention over your other notification sounds. You and the buyer can decide on a place to meet and after you can rate the buyer out of five stars.
To buy
You can either scroll down the home page, a specific category page, or type in a specific term in the search bar. Message the seller and set up a time and place to meet up.
Any item that you express interest in will show up in the "my offers" section under "buying".
What are the negatives?
Can't sell on the web
When you are on the website and try to sell something, it will tell you to use the app. This isn't that big of a deal since most people take pictures with their cell phones. But it can be annoying if your pictures were already uploaded to your computer (which is what happened to me).
Rate system
Like I said earlier, you can only rate the buyer. While you should be checking the item before you pay the seller to avoid any problems, it is annoying when you get your stuff home and you find an issue.
But you can always message the person and let them know or flag them. I personally think it would be better to give them a poor rating if the issue is minor.
You have to pay to bump your items
This is the only issue that gets on my nerves. Naturally, items that are at the top of the newsfeed get more attention so you have the option to "bump" your stuff to the top. But you have to pay $1.99 per post to do it.
Craigslist and Facebook yardsale pages do not charge for this service. But I found a way around it. I'm not paying that much to send my items to the top. It's a bit more work, but not a big deal. Just archive your old post and create a new one as often as you like. It sends the post to the top for free.
None of these negatives are deal breakers for me. I really love OfferUp and am so happy I found it. I will continue to use Facebook yard sale pages and Craigslist (just for big items). The only thing I don't like about Facebook yard sale pages is that when someone comments on a post of mine, it sometimes gets lost in my other notifications. You can learn how to use Facebook yard sale pages here.
You may also enjoy…
Have you ever tried any of these sites to buy and sell used items? Let us know your experience in the comments below.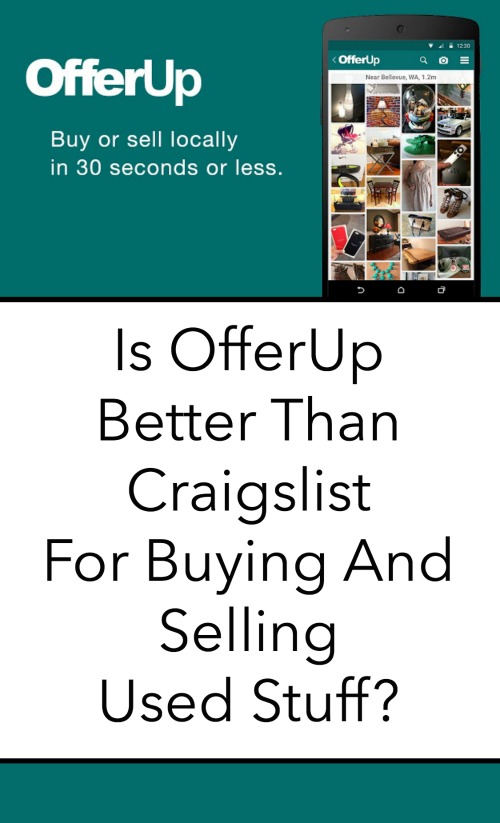 Love this article? Share it with your friends on Facebook.
This post may contain affiliate links. Products ordered through this link may result in a commission, which helps to keep the content on this site free.  The opinions expressed in this post are my own.  Any health advice that may be in this post has not been evaluated by the FDA. The products and methods recommended are not intended to diagnose, treat, cure or prevent any illness or disease, nor is it intended to replace proper medical help. Read my full disclosure policy here.
HOW TO START A BLOG FREE 7 DAY EMAIL COURSE
Do you want to find out if blogging is right for you? In this free course, I'm going to show you everything you need to know about starting a blog and making money. Join now and also get my Pinterest checklist to help grow your blog fast!