I know first hand that working a full-time job sometimes just doesn't always bring in enough money to support your family and/or yourself. But who wants to work multiple jobs that don't pay the greatest? Ever feel like that there has to be more to life than just working and paying bills?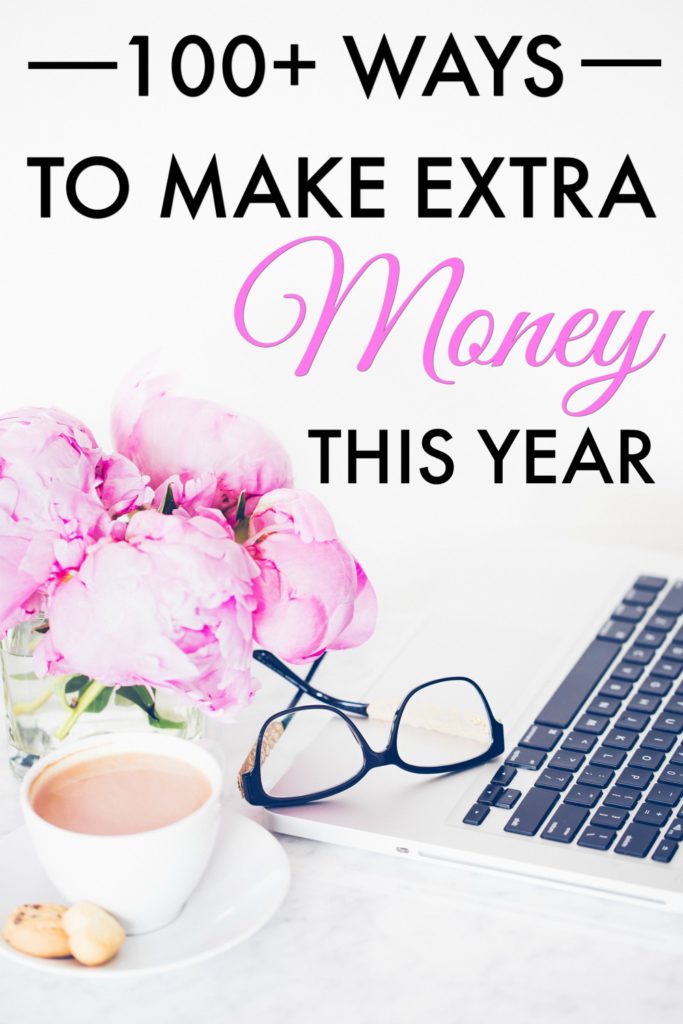 So how do you get out of the rut? Well first, we need to focus on saving money where we can. Many people just overspend because they feel like they have to have the latest and greatest.
But sometimes that still isn't enough. And sometimes we simply want to live a more comfortable lifestyle. There's nothing wrong with that. There are so many ways to make extra money and you could easily combine a couple of these ways to replace your day job. I personally think having freedom is much more important than making tons of money. These 100+ ways to make extra money are sure to get you on the path to making a couple hundred to thousands of dollars a month.
Sell your stuff
1.Sell your old stuff on Facebook yard sale pages, Craigslist, or Ebay. Go through your stuff and pick out the things you don't want anymore and sell them. I can guarantee you will have tons of stuff you can get rid of! Many people make a living off of Ebay, but if you aren't too online savvy try your local Facebook yard sale pages or Craiglist.
2.Sell to second-hand stores. Plato's closet pays you for your used clothes, accessories, books, and shoes. If you have kids, you can sell their stuff to Once Upon A Child. They take all things baby and kids, from clothes to furniture.
3.Host a garage sale. I just hosted a yard sale recently and made $300 in a couple of hours. My mom had one a couple of years ago and made over $1000. Just make sure to advertise your sale properly. Put a post on the Facebook yard sale pages in your area, Craigslist, and put up signs around your neighborhood. List some of the items that will be in the sale in the description (adding pictures helps too).
4.Pawn your items. Pawn shops are great for when you need money fast, but the methods above will get you more money for your items.
5. Participate in flea markets. Lots of people go to local flea markets so you will get lots of eyes on your stuff. But you may have to pay a fee to rent their space. Make sure it will be worth it to you in the long run.
6. Return items with tags still on it. This is a really easy way to get the full amount of money back on your items. Personally, I like to make a habit of keeping tags on clothes I buy for a couple of days or so just to make sure I really like them (many times I don't).
7. Sell your books. You can use sites like Valore and BookScouter to sell your old books.
8. Sell clothes on ThredUp. I'm sure you have been hearing about ThredUp lately for buying and selling clothes. You go to ThredUp and sign up for a free bag, they send it to you, you put your old clothes (even baby clothes) in it, and send it back to them. You will receive payment via PayPal soon after they receive your items.
Side hustle
9. Start a blog. Blogging is not necessarily a new career path, but it certainly has been getting a lot more attention lately. And why wouldn't it when so many people are making crazy amounts of money from the luxury of their own homes AND you can work whenever you want!
I was making money in about three months after starting my blog and was making $2300 a month in just seven months. After I did a bit of research and saw the people who were making money from blogging with no prior experience or college degree, I thought why not me too? I am so glad I started my blog last year. Now I can work from home and spend more time with the people who matter most to me.  Learn how you can start your own blog for only $3.95 a month here.
10. Become a social media influencer. Brands are always looking for social media influencers to promote their products since big name celebrities can get very costly and are less personal with their followers. You don't even have to have a very large following to start making money (obviously the more engaged followers the better).
You can make money from pretty much any platform (Facebook, Twitter, Snapchat, Instagram, etc.). Sites like Instabrand or BlogMeetsBrand are great for helping connect influencers and brands.
11. Start a Youtube channel. I'm pretty sure everyone has heard of the many Youtube sensations out there.  The sky's the limit with what you could do to catch people's attention. Many people have created one video years ago and are still collecting ad revenue from it. But the real money comes when you start working with brands.
12. Sell homemade items on Etsy. You can sell just about anything on Etsy. And you don't have to be super crafty to make money either. Want to know the best place to advertise your product so you don't get lost in the sea of other sellers? My all time favorite website…Pinterest!
13. Work as a virtual assistant. There are so many business owners that hire tasks out to their V.A. Managing social media accounts, participating in discussion forums to promote their business, doing research, booking appointments, and the list goes on. A good place to start to land a job is Zirtual or you could advertise your services on a site like ProBlogger.
Related article: 20 Good Paying Jobs For People Who Don't Like People
14. Stylist. Know how to do hair and/or makeup, but can't work in a salon due to not having a license? Take some pictures of your work and advertise your services on a site like Craigslist.
15. Write greeting cards. Many companies accept submissions for new greeting card ideas. Here is a list of 15 companies that you can make money writing for.
16. Move people's stuff. I paid someone $50 extra just to deliver my recliner that I found on Craiglist because I had no way to haul it. I can guarantee most people have this same problem and will pay more to have someone help them out. If you have a truck you can start advertising your services in your community now or you could even invest in a trailer.
17. Fix electronics. Know a lot about computers, cell phones, TVs, etc? Most people don't and also don't want to spend a crazy amount to get their stuff fixed at a shop.  Put your skills to good use and make some money in the process.
18. Direct sales. Direct sales are not for everyone. Myself included. But that doesn't mean there aren't people out there making big money with it. I think anyone can make a little extra cash with direct sales, but to replace your income I think you need to be pretty outgoing (or at least can pretend to be) and willing to put yourself out there to people. Mary Kay or Amway are some good companies to look into.
19. Wash and/ or detail cars. Find a good place to set up, get some supplies, and advertise. I saw a cool business when I lived down in Florida that would come to people while they were at work. Their van had a water reservoir and all the supplies they needed. Now that's convenient! People will pay good money if you make their lives easier.
20. Mow lawns. Get a mower and charge less than the professionals. I used to pay some kids to mow my lawn because they charged $10 less than anyone else. Yea, it was a bit patchy sometimes but they got the job done! They saw our lawn was getting a bit tall so they knocked on our door and asked if we wanted them to cut it. Try that out and you can easily make some extra cash and possibly set yourself up to have continued work.
21. Shovel snow. If you don't mind the cold, go around neighborhoods and ask people if they would like you to shovel their driveway. I guarantee most people will take you up on your offer.
22. Teach a skill. Know a lot about math or how to play an instrument? Just take a minute to think about what you are good at. We all have something to teach people.
23. Photography. Have some skills behind the camera? If you don't, there's always YouTube videos that can teach you anything you need to know. Invest in a good camera and get your portfolio compiled. I personally love my Canon Rebel T5i. It's very easy to use and my pictures always turn out beautifully.
The best thing I see photographers doing these days is to charge for the session, edit the photos, and just give the clients a hard drive with the pictures on it. Simple and makes everyone happy.
24. House sit. The length of the gig will vary, but you could possibly stay in someone's home rent free for months. They may have you pay utilities, but that is certainly not something to complain about. Check out Housecarers or Housesittersamerica to find opportunities.
25. Tour guide in your local area. Live in an area where tourists come to? You could easily make up to $100/hour showing people around your city. Here are 4 websites that can connect you with tourists.
26. Dog walker or pet sitter. Love pets? Turn your passion into profits and start a pet service. Rates vary depending on your area, but you could easily make $10-$20 for a short walk and $50-$100 for an overnight stay. The pet industry is a 60 billion dollar industry so there is plenty of money to be made.
27. Clean houses. Most people today are extremely busy and don't mind paying someone to help make their lives easier. But professional cleaning crews can be costly at $85+ per hour! You could charge $10-$15 an hour and have multiple jobs per week.
28. Run errands for people. Sign up as a "Tasker" at TaskRabbit and make anywhere from $25-$150 an hour grocery shopping or delivering things for people. If TaskRabbit isn't available in your area, try looking around on Craiglist for jobs or you can always post an ad.
29. Doing people's laundry. If doing other people's laundry doesn't bother you, there is most certainly money to be made doing it. Laundry Care is a great program that can get you in touch with potential clients. The average pay is about $100-$250 a week, but some partners make over $600 a week.
30. Rent your space. Do you go out of town a lot or have an extra room in your home? Start making an extra income by becoming a host on Airbnb.
31. Buy and sell stuff.  This is a great way to make money and I've been doing this on the side for years. There are so many places to find cheap items to flip like at auctions, garage sales (my favorite), and thrift stores to name a few.
Depending on the item, you may not have to do any work on it to sell it for more. But for example, you could buy a cheap piece of furniture, paint it, and sell it for way more. Try Facebook (yardsale pages or the marketplace), Craigslist, or Ebay.
32. Rent your property. Have a good amount of land? Why not make some extra cash off of it? The amount you can get will vary of course, but I recently saw 500 acres being sold and the hunting rights were already leased for $67k a year. That's some pretty crazy money! That could pay for the land in no time.
You could also lease some of your land to someone that wants to farm it. Depending on the area, you could rent out your tillable acres for $125/acre. If you had 50 acres, that's an extra $6,250 a year. Pretty good for doing nothing, don't ya think?
33. Sell bottled water at events. You can buy a 24 pack of water for ~$3.5 and can easily sell each water for $1 a piece. That's a $20.5 profit.
34. Display ads on your car. Do you have a car and don't care about putting ads on it? Check out My Free Car or Carvertise to find businesses that are looking for people to display ads on their cars.
35. Recycle. Think recycling cans is the only way to make money? Not even close. You could sell things like old wine bottles and corks to crafters on Ebay. Wine bottles usually go for 50 cents and corks go for 10 cents. You could also pledge to recycle with Recycle Bank and they will give you points. You can then redeem these points for gift cards to use at your favorite stores.
36. Handyman work. Know how to fix cars or things around the house? Most people don't and would be more than happy to save money by having you help them out.
37. Deliver food. Find gigs delivering food to people through sites like Postmates or Instacart.
38. Outsourcing for students. Agent anything allows students to become "agents" and they can take on "missions" to make some extra cash. The tasks range from virtual to physical. Pretty much anything people don't want to do themselves.
39. Wedding planner. Yes, there are plenty of wedding planners out there. But they are fairly expensive for the most part. Cater to a wider range of incomes, start a portfolio of your work, and business will be booming. Weddings can be stressful and the only reason most people don't hire a wedding planner is because of the high price tag that comes with it.
40. Scrap metal. Find your local recycling/ scrap yard to get rid of your metal. Prices vary depending on the type of metal and your area.
41. Search for gigs on Craigslist. Some of these are on the weird side so be careful! But there is also good money to be made. You could be mowing lawns or modeling t-shirts for someone's company. The possibilities are endless!
42. Odd jobs. Sign up on Zaarly to find jobs ranging from being a personal assistant to teaching someone how to play an instrument.
43. Temp tattoos for advertising. Don't mind displaying a temporary tattoo on your body that promotes someone business? Sign up to start making cash on Lease Your Body. You could make up to $5000 for leasing your forehead!
Make money online
44. Test websites. Usertesting.com pays you $10 for every website that you text and review. This is a really easy job because they are simply trying to find out how user-friendly websites are.
Related article: 5 Real Ways To Make An Extra $1000 A Month
45. Post stuff on your social media account. Have lots of friends and/or followers on any of your social media platforms? Izea is a great company that gets businesses in touch with people like you to help them promote their products or services.
46. Sell items on Amazon. Amazon is a great website to sell products on. I mean who doesn't shop on Amazon these days? Find out how this person made $10,000 in two months by selling toys on Amazon.
47. Sell your photos. Have a good eye for taking pictures? Companies like Istock photo will pay you for your photography.
48. Sell your art. You can use websites like Deviant Art to sell your artwork. Just upload your art to their site, sell your prints, and earn a royalty payment for every piece sold.
49. Answer surveys.  So many companies want feedback on their products and services and know that people aren't going to help them for free. You can start earning money by taking surveys to help them out right away! These survey sites are all free to join and free to use.
Now, you won't get rich from taking surveys, but it is a great way to make some extra cash.  How much you can make all depends on a few things. How many companies you work with, how many surveys you take, and the quality of the surveys you are eligible for. Here are some great sites that I recommend: Swagbucks, Harris Poll Online, Vindale Research, Survey Junkie, Earning Station, Survey Club, Global Test Market, Inbox Dollars, and Pinecone Research. 
Related article: 15 Best Online Survey Companies To Join For Extra Money
50. Inbox Dollars. Earn cash on Inboxdollars by playing games, shopping online, taking surveys, searching the web, and so much more. You could simply sign up for a companies newsletter and make 50 cents in just a few seconds or sign up for a free account and make $3 in a couple of minutes. There are so many offers that you can take advantage of.  And they automatically give you $5 for just signing up!
51. Swagbucks for online searching. Instead of searching through Google, you could earn points by searching through Swagbucks and you can then redeem those points for cash and/or gift cards. You also get $5 for signing up.
52. Freelance writing.  There are plenty of ways to get paid to write. Here are some great sites that will pay you for your articles. iWriter, The Penny Hoarder, Listverse, and The Krazy Coupon Lady. You could also start your own blog and this will help you to gain more credibility as a writer.
53. Editing. Got mad proofreading skills? You could easily make $5-$100+ from different gigs on sites like Upwork.
54. Go undercover. Quickthoughts pays you to take surveys ($1-$3 per), but also sends you "missions" in your local area. They could send you to a grocery store just to check out how clean everything is and pay you for it!
55. Fiverr gig. I love Fiverr! Many people are making thousands of dollars every month by offering their services to people. The services you can provide are limitless! You could get paid to pose with a companies sign, draw, research, write, and the list goes on. If I need something done online, I check out Fiverr first and so do millions of other people.
56. Ebates. Do you shop online? If so, you're missing out on earning cash back from sites like Ebates. Instead of going directly to the store you want to buy from, go to Ebates website and find the store through them. Ebates earns money from you clicking through their link and they give you some of that cash.
57. Review movies. You can get paid just to watch movie trailers on SurveySpot. Hollywood likes to know what trailers will work best and this is a great way for them to figure that out.
58. Online focus groups. Get paid to test new products, taste snacks and beverages, watch TV shows, and more on FocusGroup.com.
59. Enter sweepstakes or contests. There are always companies running sweepstakes and contests. Think it's a waste of time? Well someone has to win. It could just be you.
60. Download apps. We all download apps, so why not start getting paid for it? Sites like AppRedeem will pay you in cash or gift cards to download and test apps.
61. Work at home companies. Demand studios, Leap Force, and Speakwrite are a few great companies that allow you to work from home. Here is a list of the Top 100 Companies For Remote Jobs.
62. Refer a friend for a job. There are a lot of websites that will pay you to recruit qualified workers for a position. Reflik is a very popular site that pays recruiters $10,000 on average per successful hire.
63. Write an ebook. Writing and selling ebooks can be a great way to make a little extra side cash or can even be very lucrative. Some people are making millions by self-publishing on Amazon! You could literally write about anything (fiction or non-fiction) and make money just by charging .99 per ebook.
64. Sell an online course. Ever wonder how so many people are making millions online? This is the number one way they are doing it. They teach others how to do something they have mastered (making money, relationship advice, getting in shape, and the list goes on). I know one blogger that makes $36k a month selling her course for $197 each. That means she's only selling 182 courses a month! That's nothing when you think about how many people are online that you can sell to.
Want to start your own blog? Here is a great tutorial to show you how.
65. Teach online. Another option for making money by teaching others is by using Udemy. This site makes it easy for instructors to get found by students. This makes promotion much easier than just creating a course on your own. The downside? You won't make as much per course as you could by creating a course that you are solely responsible for promoting.
66. Create and sell a website. Websites sell for approximately 12x the monthly income it generates. This can come from ads, affiliate income, etc. That means if you have a website that brings in $2000 a month, you could sell it for ~$24k. Websites like Flippa or Godaddy auctions are a great way to find potential buyers.
67. Online jury. Ejury is a site that pays members $5-$10 for reviewing cases and coming up with a verdict.  The purpose of the site is to get a "verdict" for a real trial to help the attorney before it actually goes to court. It takes on average 35 minutes to review each case.
68. Write reviews. Why would anyone pay you to write reviews? Simply because in this day and age reviews mean everything! I know for me I look at the reviews before I buy something or visit a business (hotels, restaurants, etc.) and if the reviews are bad, I am certainly not going to waste my time with it.  Ciao.co.uk is a very popular review site that will pay you for your honest review.
69. Search with Bing Rewards. Bing Rewards lets you earn points for searching on Bing, instead of other search engines. You can redeem your points for gift cards to your favorite retailers.
70. At home politician. Companies like DDC Advocacy and Nextwave Advocacy LLC hire people to write letters to Congress on issues like taxes, healthcare, etc. Why? There are many people that want change, but don't want to put the work in. That's where you come in.  The people that want change pay one of these companies and these companies pay you.
71. Give advice. Consider yourself to be an expert in a certain area? There are many online companies that will hire you to give advice to people that are willing to pay for it. You can apply to sites like JustAnswer that are looking for experts in 175+ categories and if approved, you could be making ~$20 per order.
72. Review software.  This is perfect for people that are constantly trying out new software. With Softwarejudge you can get paid up to $50 per review. They want honest reviews, no matter if it is good or bad.
73. Customer service. Sykes and Working Solutions are both great companies that pay anywhere from $8-$14 per hour. People with certain skill sets like language fluency can earn up to $30 per hour.
74. Test mobile apps. UTest is one of many websites that pay you to test apps. Signing up only takes a few minutes.
75. Trial offers. Want to get paid for signing up for free trial offers like Netflix? Companies like Swagbucks lets you earn points for signing up for trial offers and these add up quickly and you can redeem them for cash and/or gift cards.
Part time job
76. Server. I was a server for about six years and the money is the biggest reasons I always seem to fall back on waiting tables. On average I would make anywhere from $100-$150 in a 6-8 hour shift (give or take here and there). Now how much you can make will depend on two main things. 1) Your willingness to learn and make your customers your top priority. 2) And the type/ volume of customers the establishment receives.
The more experience you get in the serving industry, the greater your odds are at landing positions in highly sought after restaurants/country clubs/ yacht clubs/etc. This means more money in your pocket. For example, a friend of mine makes $300-400+ a day waiting tables at a yacht club down in Tampa!
77. Caterer. Catering is very similar to waiting tables but doesn't usually require you to have to be as talkative to the customers. You do more background work like setting up tables and preparing plates for large groups. Then you serve multiple people their food rather quickly and refill drinks.
Certain companies will pay you an hourly wage (which I would never work for). The group is paying the company a set fee plus a gratuity for the staff. If they are only paying you by the hour and not giving you a piece of the gratuity, you are REALLY missing out on some big money (Instead of making $70 for an eight-hour shift, you could make that plus a $55 gratuity for example)!
78. Bartender. Normally you can't just jump right into being a bartender. You could either go to bartender school or start working in another position at a bar or restaurant and work your way up. But this can really be a fun job to have and worth working your way up to, especially if you like being creative and talking to people.
79. Babysit. Pretty much anyone can babysit, but want to know a way to make more money from watching kids? Teach them too. Parents will pay more money to send their kids somewhere that they are doing more than just watching TV all day. You can advertise or find jobs on Craigslist or you can use Sittercity to get linked up to families that need your services.
80. Temp job. You can go to your local Temp Agency and find temporary positions doing all kinds of things. If you like a certain job you can apply to become a permanent employee and if you don't like it you can easily request a new temporary job.
81. Drive. Have a car? Then you can quickly start getting paid to drive people to where they need to go. Click here to sign up and start making money with Uber.
82. Sign spinning. Now, I will be the first to admit this is not for everyone (including myself). I did this for two days and quit (hey, it was in the hottest part of summer in Florida!). But I know many people that enjoy sign spinning and make good money doing it. You get an hourly wage plus extra for any customers that the company gets because of you.
83. Mystery shopper. You can get paid for eating at restaurants and going shopping in your local area all while secretly seeing how the workers are performing. Some legit companies that you can start working for include Best Mark and Market Force. 
84. Become a model. We all know becoming a model isn't always easy, especially if you aren't the best looking person around. But do you have nice hands or feet? Some of the ugliest people have amazing hands and make good money by getting them photographed.
85. Be an extra in a movie. Is there a movie or TV show being filmed near you? They are certainly looking for extras and will pay you for your time.
86. Snagajob. Snagajob is a great place to search for over 250,000 part time jobs near you that fit your schedule.
Not for everyone
87. Be a friend. How does making money just by hanging out with someone sound? RentAfriend is a great website that gets people like you in touch with someone looking to pay for friendship. They could take you to dinner, to a sporting event, shopping, etc. and you could make $20-$50 an hour. You set your rate and decide who you want to hang out with. You get to be your own boss!
88. Stock market. Many people have become millionaires by investing in stocks, but there are also many people that have lost ALOT of money trying to hit it big. This can be very risky, but if you learn what you are doing before you invest you dramatically increase your chances to becoming very wealthy by investing in the right companies.
89. Donate plasma. Want to make a quick extra $20-$50? Just call your local plasma donating center to find out when you can come in to donate. Some centers allow you to donate twice in a seven day period. That could be an extra $160-$400 a month.
90. Donate eggs or sperm. An individual sperm donation doesn't pay as much as an egg donation, but men can donate more than women. Men could make an extra $1000 a month and woman could make $5000 or more for one egg donation. The downfall for women is that there is a lot of doctor visits that they will need to go to before they can actually get their eggs extracted.
91. Sell your hair. Do you have long hair that hasn't been dyed and want to help someone in need? Check out this hair calculator to see how much your hair is worth.
92. Medical testing. A lot of medical companies are always looking for test subjects and the pay can be very good. NASA paid people $5000 a month for a bed rest study a while back. That one doesn't sound too bad. But others can be a little scarier. All depends on the study being done. You can find some clinical trial opportunities on sites like CenterWatch and ClinicalTrials.gov.
93. Get on a game show. I always hear people brag about how great they would be on shows like Jeopardy or Who Wants To Be A Millionaire and when I suggest them actually going on the show they seem like they think it's impossible. Somebody's got to get picked to be on there right? Why not you!
94. Donate bone marrow. This one is an actual surgical procedure. The doctor numbs you and extracts the bone marrow from your back with a needle. After they numb you, the process only takes about a minute or so and you could earn $300, depending on the area you live in.
Some other ways
95. Trading cryptocurrencies. Buying Bitcoin and trading currency can get confusing fast. Here is a more in-depth look at the basics and how you can start making money.
96. Micro jobs. Find small tasks that you can do to get paid on Microworkers.com. From running errands to becoming someone's virtual assistant.
97. Sell produce. You could either grow your own produce or buy some from someone else in bulk fairly cheap and sell it for more. Many people sell produce out of the back of their vehicles. You could also set up a stand somewhere in your area.
98. Organizer. Lots of people are very disorganized. Maybe it's their business or home and they would love your help getting their lives better organized.
99. Find and sell Indian artifacts. You may have no idea what I am talking about. Walking creeks and fields looking for arrowheads has been a huge thing for my family since I was a little girl.  My dad has found thousands of these Indian artifacts and his collection is worth hundreds of thousands of dollars!  He does tend to over do it when he goes on for miles (I sure got some good exercise as a kid). That's just crazy to me but that's why he has so many. Wheretofindarrowheads.com has some great information for newbies.  Here are some in my collection.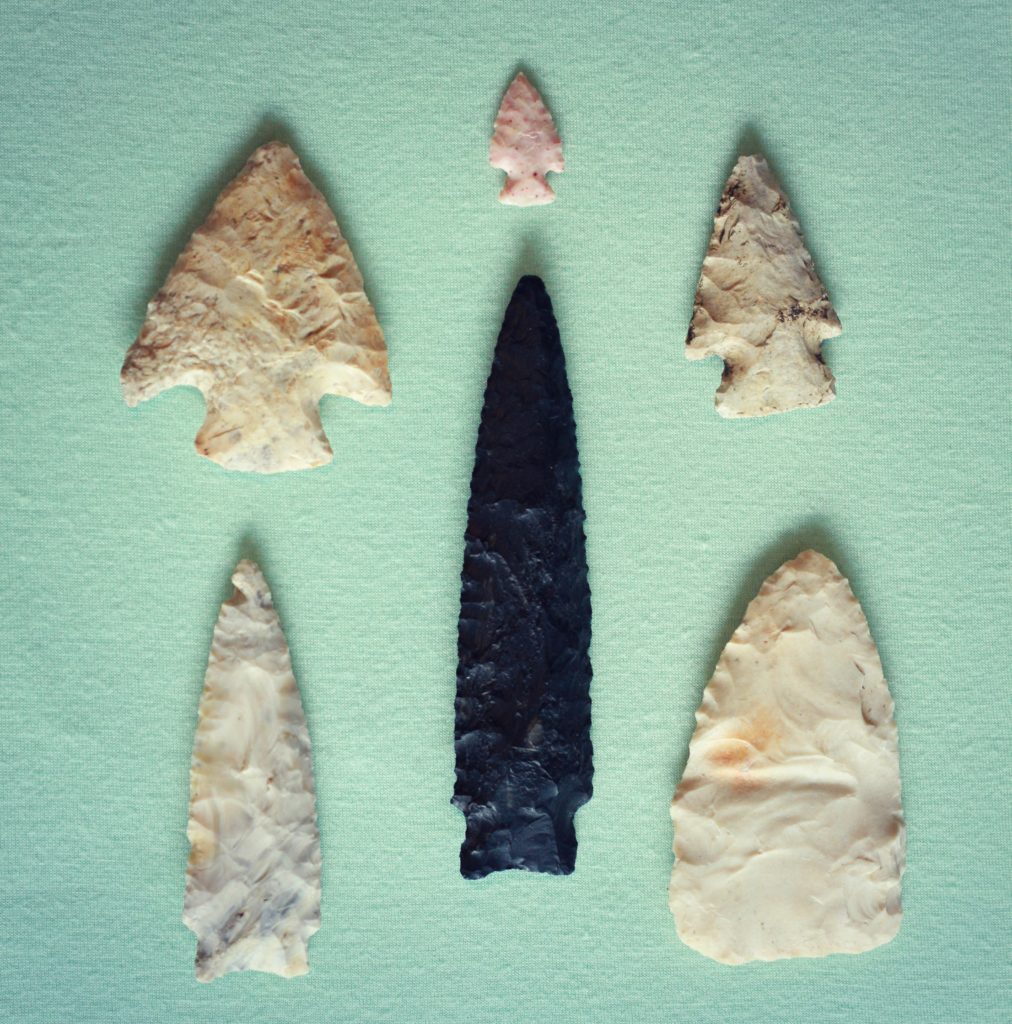 100. Personal shopper. Know a lot about fashion or interior decorating? Most people are lacking in theses areas (myself included) and need people like you to help them out. Make your services known by placing an ad on Craigslist or you could even start a business and promote it in your area to find clientele.
You may also enjoy…
Are you going to try any of these ways to make extra money this year? Let me know in the comments below!
Love this article? Share it with your friends on Facebook.
This post may contain affiliate links. Products ordered through this link may result in a commission, which helps to keep the content on this site free.  The opinions expressed in this post are my own.  Any health advice that may be in this post has not been evaluated by the FDA. The products and methods recommended are not intended to diagnose, treat, cure or prevent any illness or disease, nor is it intended to replace proper medical help. Read my full disclosure policy here.