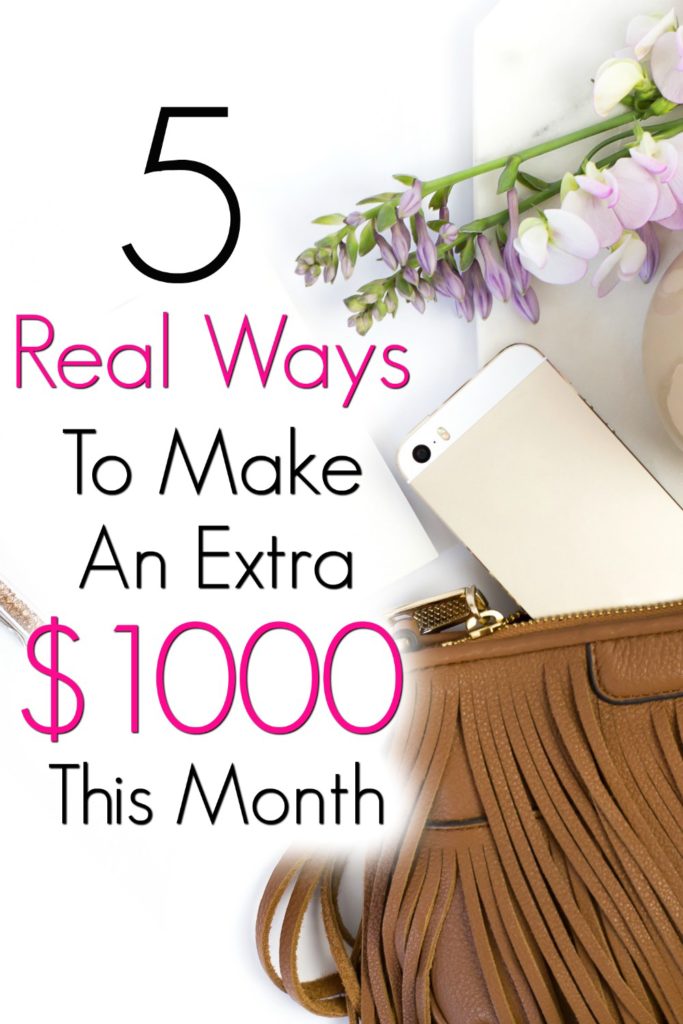 It seems like everyone is struggling to make enough money these days. I see so many people working multiple jobs just to make ends meet and they hardly have any cash left over. It's unfortunate that our economy is so bad. But we have to work with the hand we are dealt. Many people are scared to take big risks and that's understandable. So here are 5 low risk ways to make an extra $1000 every month. Any one of these could potentially replace your current job and have you making more money than you are now. And also they will help build your confidence and you could be on your way to taking bigger risks down the road. And ultimately, getting a higher payoff because of it!
Blogging
Blogging is not necessarily a new career path, but it certainly has been getting a lot more attention lately. And why wouldn't it when so many people are making crazy amounts of money from the luxury of their own homes AND you can work whenever you want!
I was making money in about three months after starting my blog and was making $2300 a month in just seven months. After I did a bit of research and saw the people who were making money from blogging with no prior experience or college degree, I thought why not me too? I am so glad I started my blog last year. Now I can work from home and spend more time with the people who matter most to me. Learn how you can start your own blog here.
Answer online surveys
So many companies want feedback on their products and services and know that people aren't going to help them for free. You can start earning money by taking surveys to help them out right away! These survey sites are all free to join and free to use.
Now, you won't get rich from taking surveys, but it is a great way to make some extra cash. How much you can make all depends on a few things. How many companies you work with, how many surveys you take, and the quality of the surveys you are eligible for. Here are some great sites that I recommend: Swagbucks, Harris Poll Online, Vindale Research, Survey Junkie, Earning Station, Survey Club, Global Test Market, Inbox Dollars, and Pinecone Research.
Related article: 15 Best Online Survey Companies To Join For Extra Money
Serving
Most people don't know how much money you can make waiting tables. I was a server at a buffet and later on at the Cheesecake Factory. I made on average $200 on both Friday and Saturday nights at both places. Many people who worked with me had degrees and worked their full-time job during the week. Just working on the weekends they were making $1600 extra a month!
The flexibility is awesome in the serving industry. I worked four days a week and only worked about six to eight-hour shifts. And I was making roughly $2400 a month! That's really good money for having no degree and taking no risks. Some restaurants require you to have prior serving experience, but most don't. I wouldn't say serving is an extremely easy job, but it is far from hard. And the funny thing is I'm was never a big people person. I think so many people think you have to be outgoing to be successful, but that is not the case. You only have to be friendly. Most customers don't want to talk anyways.
Most people tip at least 15-20% on their total bill. I love that I have so much experience (7 years) as a server that I can always fall back on if I'm low on money. The more experience you get, the more easily you will be able to work at higher class restaurants. If you have a yacht club or country club near you I highly recommend working there. You could make anywhere from $300-$400 a night!
Related article: 100+ Ways To Make Extra Money This Year
Flipping
This is a great side hustle that anyone can do. You could easily make this into a full-time gig very quickly. You can also buy items from Craigslist, Facebook yard sales, garage sales, or thrift stores and sell it for more (double, triple, or more if done correctly). So many people have to get rid of their stuff fast and you can easily talk them down. There is no risk unless you start buying stuff and paying more than you should for it.
Related article: How To Make Quick Money On Facebook

I used to be the person that people would come to when they needed money asap. I would buy their electronics and other valuables for more than a pawn shop would. Then I would resell it for way more than what I paid for it.
Some people have told me that I was wrong for "profiting from people's financial troubles". But I see it this way. I helped those people be able to pay their bills. No one else was going to help them and I gave them a fair amount. Everyone knew I only bought their stuff so I could sell it. Let people know that you would be willing to help them out if they ever need you. I made a couple thousand dollars extra a month doing that. It's easy money and you hardly have to do any work. Buy it and put it online to sell it.
Direct sales
This has a little more risk, depending on what direct sales business you get into. There are many that don't require you to buy anything to get started. But there are some that require you to buy a website or something of that nature. It's usually a small investment that is well worth it in the long run, but many people are scared to even spend $50. Be very careful if they are asking more than a couple hundred dollars. I had someone try to tell me they required $2000 to start (they did make it sound good, but thankfully they didn't scam me).
Low risk, low reward and high risk, high reward is usually true. The great thing about most direct sales is they are low risk and high rewards down the road. You can easily make $1000 a month selling for companies like Mary-Kay or Scentsy early on. Many people think sales companies are all just scams. Of course, some are. But many people become very wealthy in the sales industry. You can easily work in direct sales part-time and make good money.
You may also enjoy…
Did you find any of these ways to make $1000 a month helpful? Let me know in the comments below.
Love this article? Share it with your friends on Facebook.
This post may contain affiliate links. Products ordered through this link may result in a commission, which helps to keep the content on this site free. The opinions expressed in this post are my own. Any health advice that may be in this post has not been evaluated by the FDA. The products and methods recommended are not intended to diagnose, treat, cure or prevent any illness or disease, nor is it intended to replace proper medical help. Read my full disclosure policy here.