UPDATE: You can now join the 60 Day Lazy Girl Health and Fitness Boot Camp for free! Get step by step instructions to help you go from lazy and unmotivated to dedicated by forming better habits. This is not an opportunity you want to miss! Join the Health and Fitness Boot Camp here. 
You want to lose weight. You know you need to start eating healthier foods and working out to make that happen. So that's what you do.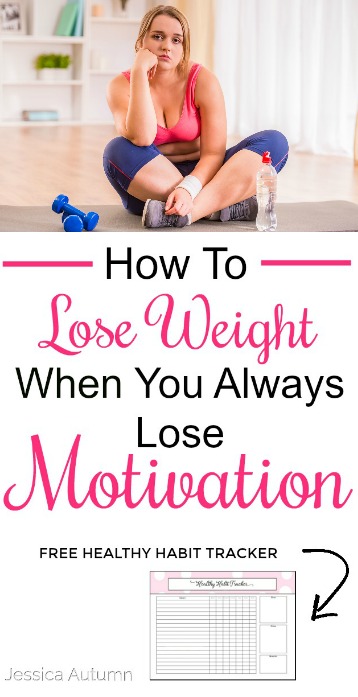 A couple days or even weeks go by and you're going strong. You're pumped up and feeling good about yourself.
Then for some reason, you lose all your motivation and give up.
After repeating that same process over and over again, you get to the point where you think, "why try again? I'll just give up again anyways.
Sound familiar? You're not alone. Everyone that's tried to lose weight has been where you are. I can't tell you how many times I've been there myself. The last time I felt like that, I knew I had to come at things differently than I had been to get different results.
Why motivation can only get you so far
To achieve your goals, you have to get past relying on your motivation. No one is motivated every day.
The difference between someone that keeps going and someone that gives up is their mindset. Our minds can either hold us back or help us to achieve anything we want.
Weightloss mindset stages
1.Denial
A person at this stage doesn't see a problem so they can't begin to work on the solution. They think since they drink a bottle of water a day and maybe go for a walk once a week that they are healthy.
I doubt you are stuck in this phase since you are here reading this. I know many people stuck in this phase and nothing you can say to them makes any difference. To change our lives in any area, we must first admit there is a problem.
2.Contemplation
You've either been here or are here right now. You know you need to change what you do to change your life.
You start researching ways to lose weight and plan to put those things into action but just can't seem to find the motivation to move past that. You say things like, "I'll start on Monday" or "I'll start after l I finish the ice cream in the fridge".
Anyone can have a dream, but if there is no daily action taking place that dream will never become a reality.
3.Action
You're ready to go! There's healthy food in the fridge and you've joined a gym (or plan to work out at home). And then you get to it.
This is where you are beginning to change your habits. Many people get in this phase but end up regressing back into stage 2. And if you are like me, you might have gone back and forth more times than you can count!

4.Habit creation
This is the stage that you may have experienced at some point in your life and then regressed or you have never been here before.
Either way, this is where you want to be.
Many people say it takes 21 to 30 days to form a habit. Others say it's more like 60 days. I believe 60 days is just about right.
This doesn't mean 60 days to see results, but committing to changing your daily habits for 60 days so you stop relying on motivation alone and can keep going. It's hard for us to start something new and thinking that we have to do it forever.
It's overwhelming honestly.
So what changes do you need to make to stay consistent this time?
The answer is small changes here and there during those 60 days.
If you decide right now that you are going to start drinking just water, workout every day, give up all junk food, never eat fast food, and start preparing healthy meals only…you are just setting yourself up for failure.
How do I know this? Because I've been there. I would make all those changes at once and do good for a while. Then I would break one of them and then two. And after that, I felt like I failed so why not just give up?
And that's exactly the cycle I was stuck in. 
Until I changed my mindset. Instead of looking for immediate results that were unrealistic, I decided I needed to take things slow and see what happened.
I didn't feel deprived this time. I didn't feel overwhelmed. And I did something I'd never done before. I stayed consistent.
And I was seeing results the whole time so it helped me to keep going.
That's why I created my free 60 Day Lazy Girl Health & Fitness Boot Camp. I wanted to share EXACTLY what I had done to change my life so you could change yours as well.
These are the small and powerful changes that I made and when I made them that helped me to stay consistent and finally lose the weight I set out years ago to lose.
Details for the free 60-day challenge
You can sign up here
You will receive one email per week for 60 days with each challenge
You will have access to the Facebook health and fitness support group
It's that simple. I give you the challenges each week and your only job is to take action. I did my best to keep each email challenge as short as possible and only full of important (need to know) information.
I want you to succeed so you can feel good about yourself. Because then you can be a better mother, sister, daughter, employee, and person in this world. When we work on ourselves physically, it also benefits us mentally.
I've suffered from depression for years, but my mind is so much more positive and clear now. I want that for you too.
If you are ready to join me on this journey, you can sign up for free in the box below! I hope to see you there!

And don't forget your free printable!
You can download your free healthy habit tracker printable here!
You may also enjoy…
What mindset stage are you in? Let me know in the comments below!
Love this article? Share it with your friends on Facebook.
This post may contain affiliate links. Products ordered through this link may result in a commission, which helps to keep the content on this site free.  The opinions expressed in this post are my own.  Any health advice that may be in this post has not been evaluated by the FDA. The products and methods recommended are not intended to diagnose, treat, cure or prevent any illness or disease, nor is it intended to replace proper medical help. Read my full disclosure policy here.