UPDATE: You can now join the 60 Day Lazy Girl Health and Fitness Boot Camp for free! Get step by step instructions to help you go from lazy and unmotivated to dedicated by forming better habits. This is not an opportunity you want to miss! Join the Health and Fitness Boot Camp here. 
Working towards becoming fit and healthy is all about forming better habits. Motivation can only get us so far because as we all know, some days finding motivation is simply impossible. But when we are in the habit of doing something, we do it because it's a part of our lifestyle. Not because we a necessarily motivated.

I like to think of it this way. When you're motivated, use those days to go above and beyond. And then on days when you're not motivated, do what you can. This goes for eating healthy and living an active lifestyle.
These 10 fascinating habits of fit and healthy women are so important to work on implementing in our own lives in order to achieve our health and fitness goals.
1. She strives for progress, not perfection
A big thing that holds so many people back from achieving their goals is the fact that they are trying too hard to be perfect. None of us are perfect and we know it, but that doesn't mean we don't get down on ourselves when we do fail.
We must accept that failure is inevitable BUT that is no excuse to stop on the path to success. So if you are trying to start living a healthy lifestyle, don't beat yourself up when you have a bad day. Just acknowledge that you had a weak moment and get back in the game.
2. She sees food as fuel for her body
Many people don't fully understand their bodies and how they work. Food is essentially energy for our bodies. When our body is getting too much energy, our bodies store that as fat to burn later.
To maintain a healthy weight, we only need to intake enough calories (energy) for our bodies to perform properly throughout the day. That way those calories get burned and are not stored for later.
Eating 500 calories of candy vs. eating 500 calories from a well-balanced meal can make a world of difference in our overall health. It's all about making healthy choices.
3. She eats according to the results she wants to achieve
So now that you understand a bit about how your body works, let's look at how you should be eating to get the results you want. Here is a quick formula: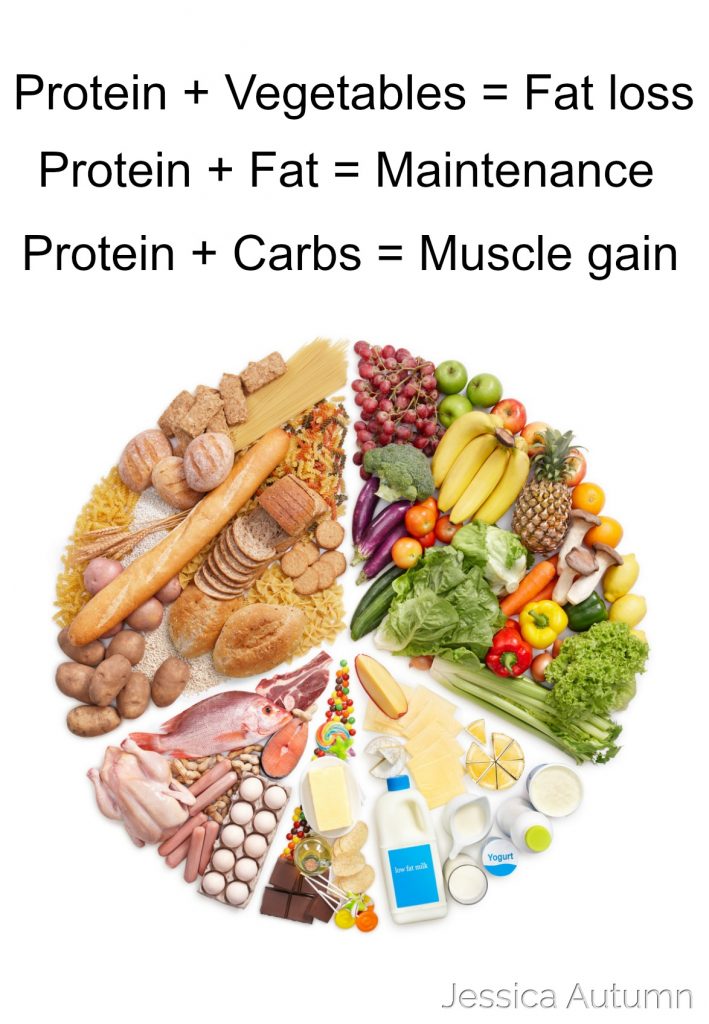 Now, this doesn't mean you shouldn't be eating a good mix of macronutrients (protein, fats, and carbs). But it's a good gauge of what you should be getting more of to achieve the results you want.
4. She eats home cooked meals often
The vast majority of restaurants are known for having tons of calories, fat, and sugar in their food. You don't really know what exactly is in your food when you are ordering. But when you choose to cook at home, you have so much more control over what goes into your meal.
5. She eats smart when she does eat out
While eating at home is a much wiser option overall, there will be times when we do go out to eat. The two important keys here are to minimize how often these times are and also to choose healthier options.
Did you know that even when you order a salad at a restaurant it could contain over 1000 calories? It's very easy to eat a whole day worth of calories and some in one meal at a restaurant if we aren't careful.
Some restaurants have a low-calorie menu for you to choose from, but most don't. If you can find a meal for under 500-600 calories, that's awesome.
When I go to a restaurant, I usually stick to ordering a lean protein (chicken, fish, or steak), a low-calorie vegetable (broccoli), and a carb (baked potato/sweet potato with minimal condiments).
When I'm on the go and decide on fast food, I prefer Taco Bell. I order two steak soft tacos, fresco style.
There are so many other low-calorie options than these, but that would take forever to name. It's all about educating yourself. Let me know in the comments if you want me to talk more about this in a future post.
6. She doesn't deprive herself but also doesn't go overboard
Balance is important with everything, especially when it comes to food. Trying to stop eating all sweets and your favorite foods is a terrible idea. All that will do is give you a couple of miserable days of dieting and then you will probably just go on a binge (been there, done that).
But you also can't eat like you've been eating and expect to achieve different results. Something has to change.
Finding a good balance between eating healthy and treating yourself is vital to achieving your goals. Personally, I choose to eat healthy all day and enjoy a treat after dinner. Portion control is key.
7. She limits calories from drinks
The average American drinks 400 calories a day. That number is in the 1000's for many people though. I absolutely love frozen coffee drinks. That's 600 calories per drink. Yea, I can't do that every day if I want to live a healthy lifestyle.
Water is the best drink out there for our bodies and has 0 calories. That should be what you're drinking most of to achieve your health and fitness goals. But green tea and coffee aren't bad choices either. We just have to watch the condiments that go into it.
Just be mindful and practice moderation with your drinks too.
8. She works out because she loves herself, not because she hates her body
I get it, your body doesn't look and feel the way you want it to right now. But that's no reason to beat yourself up. You have the power to change both of those things. No one else does. You have to take control over your health and fitness.
When you hate your body, you will give up when you try to change it. But when you start loving your body and wanting to take care of it, that's when you will start to see real results.
Any transformation starts with your mind. You have to change your mindset before moving on to actually taking action. Your appearance is a result of your health. So put your health first and everything will fall into place.
9. She is careful not to consume even healthy foods in high amounts
I get so many messages from people saying they are eating healthy and staying active but aren't seeing any changes in their weight. It doesn't make sense because they are missing a vital piece of the equation.
You can workout and eat only healthy foods all day, every day but if you are eating too much you won't see any results. You can have a really strong body, but if you have fat covering it up you won't be able to see it.
The only way to lose weight and get a toned body is to create a calorie (energy) deficit. I love the My Fitness Pal app. It lets you set your goals and it tell you exactly how much food you should be intaking every day to get the results you want.
10. She spends time outside
Getting outside and moving around is so amazing for your overall physical and mental health. And like I mentioned before, it all starts with your mind. Ever noticed how much happier you are when you are outdoors more often?
Even going for a walk can do a world of wonders. Plus, small changes now can lead to you doing big things in the future. The important thing is that you start. Time passes by too fast to remain in a rut. Because that rut can continue on for years if we aren't careful.
You got this. If you need more help, I'm working on putting a free health and fitness boot camp together. These are the things that helped me go from unmotivated and out of shape to actually creating a healthy lifestyle. It helped me and I want to share that with you. You can sign up below if you want to know when it's released. I'm super excited about it!
Free Lazy Girl Health and Fitness Bootcamp
Want to discover my secret to going from lazy to dedicated and how you can do it too? The bootcamp is still in the making, but I'll let you know as soon as it's finished! Sign up now for updates.
You may also enjoy…
Which habit do you find most important? Let me know in the comments below!
Love this article? Share it with your friends on Facebook.
This post may contain affiliate links. Products ordered through this link may result in a commission, which helps to keep the content on this site free.  The opinions expressed in this post are my own.  Any health advice that may be in this post has not been evaluated by the FDA. The products and methods recommended are not intended to diagnose, treat, cure or prevent any illness or disease, nor is it intended to replace proper medical help. Read my full disclosure policy here.